These cheesy, oven-baked fritters are a comforting and veggie-packed recipe. They are made with mostly pantry staples and require just a handful of minutes of active time to make!
Servings: 2 servings
Serving Size: 3 (153g) fritters
Prep Time: 15 minutes
Total Time: 45 minutes
Nutrition Facts: 288 calories / 28.5g carbs / 18g protein / 12g fat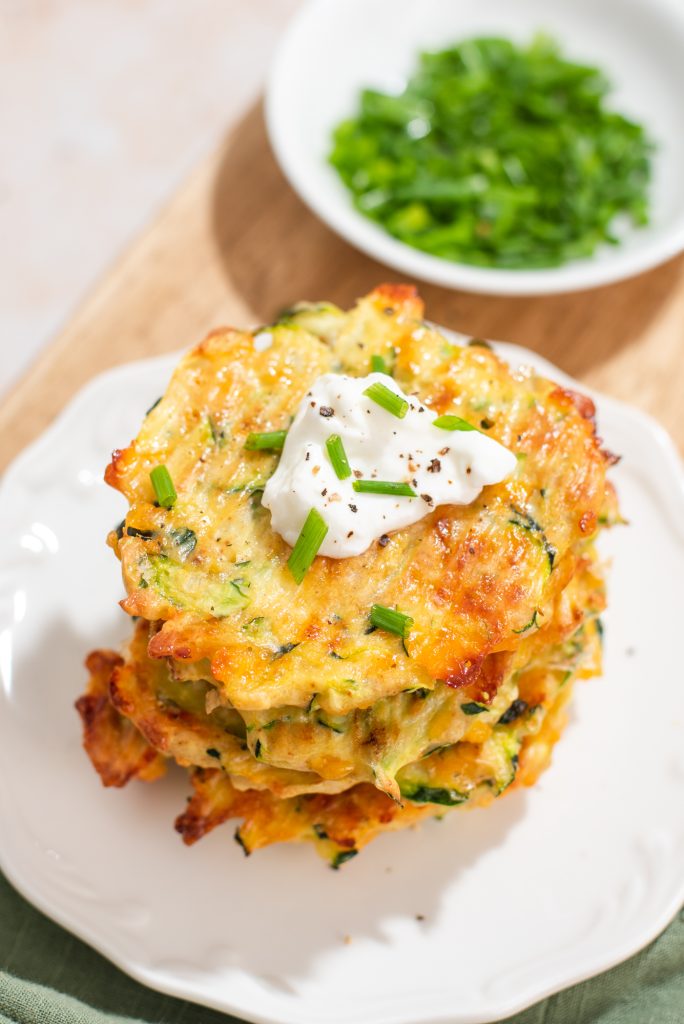 Ingredients:
2 cups (225g) grated zucchini
½ teaspoon salt (divided)
½ cup (62g) all-purpose flour
2 large (100g) eggs
½ teaspoon paprika
½ teaspoon garlic powder
⅛ teaspoon black pepper
½ cup (56g) "Kraft" reduced-fat shredded cheddar cheese
Instructions:
Preheat the oven to 350 degrees F. Layer a sheet pan with parchment paper.
Line a colander with paper towels or a clean kitchen towel. Place grated zucchini in the colander. Sprinkle with ¼ teaspoon salt. Let rest for 10 minutes.
After 10 minutes, gently squeeze excess liquid from the zucchini. Set aside.
In a medium mixing bowl, whisk together flour, eggs, paprika, garlic powder, black pepper, and remaining ¼ teaspoon salt.
Fold in the grated zucchini and shredded cheddar cheese until just combined.
Portion 6 zucchini fritters out onto the parchment paper-lined baking sheet. Lightly press into 3-inch wide circles.
Bake for 30 minutes total, flipping the fritters halfway through. Fritters are ready when cooked through and golden.
Notes:
An equal amount of gluten-free all-purpose flour can be used to make this recipe gluten-free.
Optional toppings: sour cream or plain Greek yogurt, chives, freshly ground blackpepper (macros not included).