This vegetable side dish takes a lighter approach to traditional butter-laden gratins, replacing heavy cream with an easy béchamel. The zucchini requires a little extra sitting time to eliminate excess moisture, but the process is largely hands-off and definitely worth it. Heap your plate with an extra large helping, because this decadent-looking dish is a veggie powerhouse in disguise!
Servings: 6
Serving Size: 1 slice (193g)
Prep Time: 10 minutes
Total Time: 1 hour, 30 min
Nutrition Facts: 174 calories / 17g carbs / 10.5g protein / 7g fat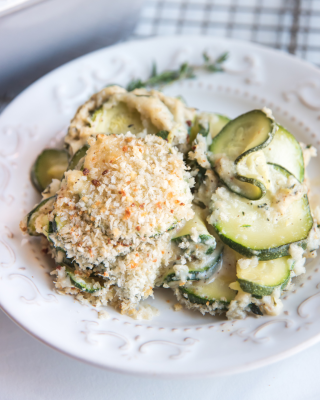 Ingredients:
5 (1020g) medium zucchini (thinly sliced)
2 teaspoons salt
½ cup (45g) 'Panko' bread crumbs
¼ cup (29g) grated Parmesan cheese
1 ½ (368g) cups nonfat milk
2 tablespoons flour
2 teaspoons fresh thyme (chopped)
1 ½ teaspoons garlic powder
1 teaspoon chili powder
¼ teaspoon nutmeg
¼ teaspoon ground black pepper
3-ounces (85g) sharp white cheddar (grated)
2 teaspoons lemon juice
Instructions:
Toss zucchini slices with 2 teaspoons salt and place in a colander over the sink. Allow the zucchini to sit for 30-45 minutes to release all their excess water. Thoroughly pat dry with a clean tea towel or paper towels and transfer to a large bowl.
Preheat oven to 375 degrees F.
Combine panko and Parmesan cheese in a small bowl and set aside.
Add milk to a small saucepan, and slowly add flour, whisking to incorporate. Once blended, add thyme, garlic powder, chili powder, nutmeg, and black pepper and bring to a boil over medium-high heat, whisking constantly. Reduce heat to low and simmer, stirring regularly, until the mixture has thickened significantly – about 5 minutes. Stir in cheddar and lemon juice. Taste; season with additional salt and pepper, if desired.
Pour sauce over zucchini and mix to combine. Arrange half the zucchini on the bottom of a medium-sized casserole dish (2.5 quart capacity) and top with half the panko mixture. Repeat with the second half of the zucchini and panko.
Bake for 35-40 minutes until the top is a golden brown and the cheese is bubbling around the edges. Allow gratin to cool in the pan for at least 10 minutes before serving.
Notes:
Look for small-to-medium sized zucchini as these are less bitter, have softer seeds, and thinner skins than their larger, more fibrous counterparts.
If fresh thyme is not available, ¾ teaspoon dried thyme may be substituted
The flour and milk sauce is called béchamel, which is easy to make if you work slow and stir continuously – but we get it, things happen! If your béchamel turns out clumpy, simply push the mixture through a fine-meshed strainer, and return to the pan before adding in the grated cheddar and lemon juice.