You know when you meet someone and you just "know" they are "the one"? That is how Macrostax feels about adding Sarah, RD to our team. She has so many talents and is drastically improving the quality of content Macrostax is sharing with the world. From creating recipes, expert photographing and the love for data we are stoked to see how the product evolves with Sarah as part of our team. We built a full time position for her after she exceeded expectations time and time again. As one of the first employees, her hand in building this product plays a really big role and the quality will shine through as we release new features. You won't want to miss what Macrostax has in store these upcoming months!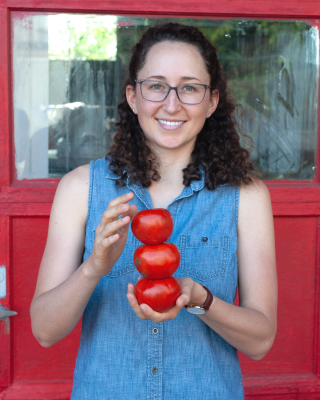 What did you get your degree in and where?
I got my undergraduate degree in Physiology from UCLA and my Masters in Public Health/Nutrition from UNC-Chapel Hill.
What is your favorite "fun food" that you will "make fit"?
I love to make my own healthy versions of cookies and granola bars – they're SO helpful when I'm on the go with a little one (and obviously, delicious!).
At which store would you most likely max out your credit card?
Sur La Table
What is it that drives you to be successful?
I love sharing my love of food with others! And I'm a perfectionist, so I work really hard to produce the best tasting/looking food that I can.
What are you most passionate about?
FOOD. Cooking, eating, sharing, photographing, learning, reading, writing about food!
Who inspires you?
All of those fabulous moms out there! It's such a hard job (my hardest yet) and I'm always wowed and inspired by everything strong, hardworking ladies manage to accomplish while juggling a family.
What made you want to work for Macrostax?
Macrostax has created something really special to help people tailor their nutrition to fuel their bodies and feel their best. I love the "non-diet" approach, and I find it really rewarding to be a part of positive sustainable change. So naturally, joining the Macrostax team was a great fit for me!
What style of workouts do you gravitate towards?
My favorite workouts are CrossFit, spinning, and running. Anything high intensity that's going to get my heart racing and those endorphins flowing!
Outside of working out and counting macros what are a few things that Macrostaxers would find you doing in your free time?
Hanging out with my one-year-old son, husband, and golden retriever. We love to go on walks and explore all the cool spots in Austin, our new home town. I'm also trying to get the hang of gardening which is a new challenge for me!
We know you love to cook, where can we find your recipes?
You can find my recipes on the Macrostax blog. I really enjoy creating my own recipes, but I often use my favorite cookbooks, recipe blogs, and restaurants for inspiration.
Can you play any instruments?
I play the piano. I took lessons for almost 10 years when I was younger, but now I take a more casual approach and usually end up playing songs like "Mary Has a Little Lamb" for my son!
What is one of your staple foods that you couldn't live without?
Peanut butter, for SURE. I had to go 2 weeks without eating peanut butter once and it wasn't pretty.
What are three things still left on your bucket list?
Visiting Scandinavia, hiking through all the National Parks in the US, and taking a cooking course in Italy.