Macrostax is expanding! Vanessa is our newest addition as the face behind StaxChat, our in app chat feature that allows you to talk to a coach at anytime. Vanessa lost 12lbs of fat and gained 3lbs of muscle in three months after signing up for Macrostax in 2017. She knows first hand the struggles of counting macros and how Macrostax can be the answer. As our Customer Success Manager she lives to help people reach their goals through health and fitness and we are honored to have her. She spends most of her time answering other people's questions so we though it would be nice to have her answer a few questions about herself and learn more about her passion and dedicated lifestyle!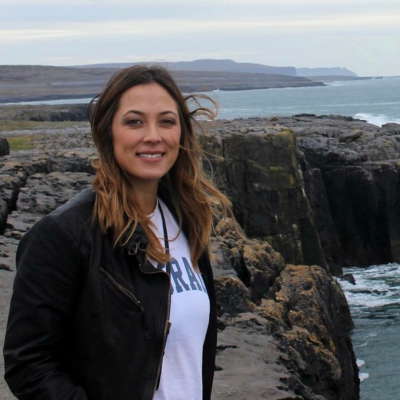 How long have you been counting macros?
1 year and 7 months!
What did you get your degree in and where?
Public Relations from Syracuse University
What is your favorite "fun food" that you will "make fit"?
I will almost always make room for Halo Top Pancakes & Waffles.
At which store would you most likely max out your credit card?
The grocery store!…Who am I kidding? Lululemon.
What is it that drives you to be successful?
I have never seen the point of doing something halfway. A friend once said to me, "you're either a zero or, like, 100". I believe we are the makers of our own reality, and that you get what you put in. So put in your whole heart, or not at all. Apply it to all aspects of your life, and you might find more success than you were looking for.
What are you most passionate about?
Like most people in this industry, I am an advocate for healthy living. When I quit playing tennis competitively, I struggled with weight, food, and exercise. Everyone finds their stride in different ways, but eating well and moving around each day are the simplest answers to some of our biggest problems.
Who inspires you?
I swear I'm not kissing up here but Lindsey Love Jenks, founder of Macrostax! At her age, she has accomplished so much, from being a CrossFit Regionals athlete, to owning her own gyms, to owning her own one-on-one nutrition coaching company, and now her own nutrition app, which changes lives on the daily. And she's still going. This woman works hard, is on top of it every day, crushes work outs, and her hair always looks perfect too. It's incredibly motivating for other female professionals like me in the tech space!
In the realm of public figures, it would be Rafael Nadal the pro tennis player. He is the epitome of humility, grace, work ethic, and mental toughness. To me, he is the perfect athlete and someone I have looked up to for a long time.
What made you want to work for Macrostax?
I started Macrostax and CrossFit at the same time and achieved results in 3 months that I had been trying to do for 5 years. It totally changed my life. I was working at other SaaS companies in the Denver area, and when the opportunity came to combine those two fields, I had to take it. I found my own "aha" moment with Macrostax, and my goal as Customer Success Manager is to help our Macrostaxers find theirs!
What style of workouts do you gravitate towards?
Those lung-blazing, muscle-burning things called WODs. CrossFit fueled my competitive fire when I stopped playing tennis. I swear nothing gets my heart racing more than hearing that "3….2….1…Go".
Outside of working out and counting macros what are a few things that Macrostaxers would find you doing in your free time?
This question makes me feel boring because all I do is eat, train, work, and sleep! When I do have time, I like to snowboard in the winters and wakeboard in the summers. On a regular weeknight, you can find me at home with my Great Dane 🙂
Can you play any instruments?
The piano. It's been a while but I can still play Bach's Solfegietto purely off of muscle memory in my fingers.
What is one of your staple foods that you couldn't live without?
If we're talking dishes, I could actually eat sushi every meal, every day for the rest of my life. If we're talking specific foods, rice is pretty hard to beat. Red rice, black rice, brown rice, white rice, yellow rice, sweet rice, salty rice, sticky rice, plain rice. You literally cannot go wrong here.
What are three things still left on your bucket list?
1. Qualify for a sanctioned CrossFit event, whether or not it's as an Individual, Team, or Masters
2. See the Northern Lights
3. Be a princess and live in a castle (if Megan Markle can do it, I can do it too)