Since she started using Macrostax, Alyssa Berger has lost count of how many times people have asked her what meal plan she's doing. While she is now leaner and healthier than she's been in years, it was not long ago that she felt the sting of insensitive comments about her weight. She remembers running into one of her high school coaches who remarked on how she should watch out, as it only gets harder to lose weight as you get older. At the time, she'd recently graduated from college, was working at a Chinese buffet, and was hitting the bars every weekend. "Being 5'9" and 165 pounds didn't look good on me," she recalls. "I was disgusted with myself."
Desperate to make a change, the 24-year-old Thibodeaux, Louisiana wife and mother dove headfirst into exercising and dieting. While she began to like what she saw in the mirror, she knew her approach was unhealthy. Not only that but she recalls, "I was still mentally beating myself up." Like many, she perceived carbs as "bad." But eating a low-carb diet only left her fatigued and craving carbs. Meanwhile, she was stuck in a cycle of skipping meals during the day and binge eating at night.
When Alyssa started CrossFit three years ago, she was bursting with enthusiasm and eager to nail her workouts. Physically though, she lacked the stamina to make the gains she was looking for. She took a break from CrossFit during her pregnancy with her son, but continued to work out on her own throughout the pregnancy and following her delivery. Though she quickly shed the baby weight, Alyssa continued to struggle with stale workouts and limited progress. With an infant to care for and a full-time job as a medical coder, her 1500 calorie per day low-carb diet was not enough to fuel her busy days. Alyssa recalls feeling depleted and looking frail.
When several of her CrossFit training buddies started counting their macros, Alyssa swore she'd never measure her food. But when she saw their performance skyrocket, she decided to give it a try, turning to Macrostax in March of 2018. Results came quickly and she never looked back. Within six weeks she'd dropped five pounds, went from 25% body fat to 21%, and lost a total of two inches. She's also thrilled with the energy she now has for her workouts, her job, and most importantly, her family.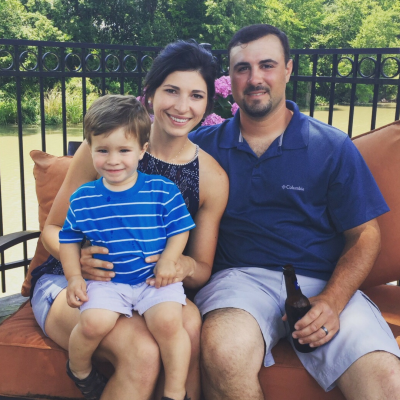 After years of viewing carbs as unhealthy, Alyssa initially felt uncomfortable eating all the carbs Macrostax prescribed. But the performance gains she experienced and her new relationship with food and her body helped her make the shift. "I am finally comfortable and happy in the skin I am in. I no longer look in the mirror with disgust [or feel guilty] for eating a delicious meal. My new outlook on my diet approach has drastically changed and I love to experiment with my food options." Not only that but she now has the cut stomach and lean muscle definition she'd been chasing for years.
Today Alyssa says she feels better than ever. She typically works out at least six days a week for 40-45 minutes. She squeezes in a short workout at home before her son gets up, between 4:30 and 5am. On a typical workday, she drops him off at daycare and shows up at her lher local Anytime Fitness at 7am. She makes it Momentum CrossFit once or twice a week but when she can't make it to the WOD or Anytime, she works out at home with Les Mills on Demand. To maximize her time, the busy mom prefers supersets and HIIT workouts. Among her favorite exercises are thrusters, Bulgarian lunges, and burpees. After two knee surgeries to repair a torn ACL from a high school injury, Alyssa is careful to use lighter weights for squats and other exercises that stress the knee joints.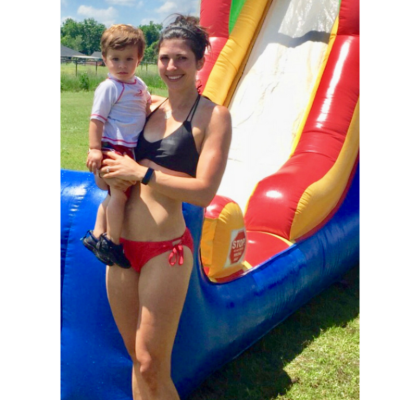 Alyssa is a self-proclaimed chocolate lover—and she loves getting creative when it comes to working her sweet cravings into her macros. Her go-to treats are protein shakes, chocolate PB2 powder, and rice cakes. In the evenings, she enjoys experimenting protein cookies, brownies, and pancakes with chocolate syrup drizzled on top. As for the carbs she used to avoid: sweet potatoes, jasmine rice, and pita bread can regularly be found on her dinner plate.
As far as her mentality, Alyssa has done a complete 180 since starting Macrostax. Although she generally made healthy choices previously, she realizes now she'd been overdoing her protein intake by at least 40 grams per day and she could have eaten at least 50 grams more of carbs per day. And while she used to deprive herself as "punishment" for overeating or eating sweets, she now plans ahead for desserts or other indulgences and fully enjoys them. When she doesn't exactly make her numbers, she says "I do not let it get to me." Rather, she reviews the situation, thinks about how she could handle it differently next time, and lets it go. Though she acknowledges it takes discipline to track her intake, she finds that pre-planning her meals for the day makes it easier.
Her advice for new Macrostaxers? Don't worry too much about doing everything perfectly at the beginning. Like anything else, Alyssa says, consistency is a habit that you form over time. Even if we make mistakes along the way, every day is an opportunity to be the best version of ourselves. And nutrition plays a huge role. "Take it from someone who has and still continues to do high intensity Crossfit and workouts with a toddler on [the] living room floor, nutrients from a proper diet is key to your success. You cannot outwork a bad diet!"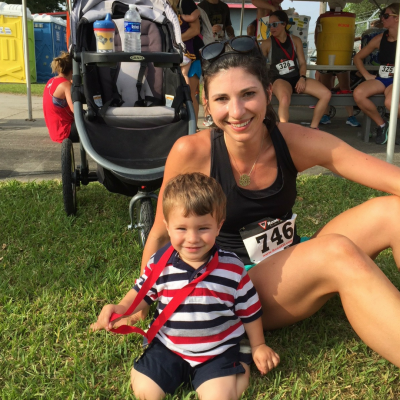 ---
Some of the links above are affiliate links, which may earn Macrostax a commission at no extra cost to you.